Welcome back to Thrifty Thursday! My friend Lindsey of
Apple of Mama's Eye
and I are co-hosting a fun, new linky party!! We have been neighbors for close to ten years. Soon she will moving away with her Army man. This party will be a nice way for us to stay in touch! Please join us in a more simple, thrifty lifestyle!!
Homemade laundry detergent has been on my To Do list for quite a while.
I finally got around to making it.
I gathered all of my ingredients
Washing Soda
Borax
Laundry Soap
Lavender Orange smells great!
First I had to shred the laundry soap.
And shred... And shred.
Once I got down the the end of the bar, it got a little tricky,
but I managed to shred the entire bar without shredding my fingers!
Bunny called the shredded soap, "Hay" and had to run her fingers through it.
The recipe called for the one shredded bar of Laundry Soap, one cup of Borax, and one cup of Washing Soda. But I actually put in the bar and half a box of each of the other.
We will see if this pays off or not.
I blended it all up...
And put it in a cute crock.
Perfect fit!
So pretty and good smelling!
What a good thing I decided to make it too, cause my hubby got a little skunky while outside (we have had a skunk after our chickens). Pee-Eww! We washed his stinky clothes in 1/8th of a cup of my homemade detergent, and it completely de-skunked them!
Now on the THE PARTY!!!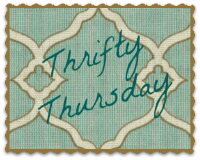 <!-- end InLinkz script -->